Protect yourself from April showers with Tucano Urbano
Published on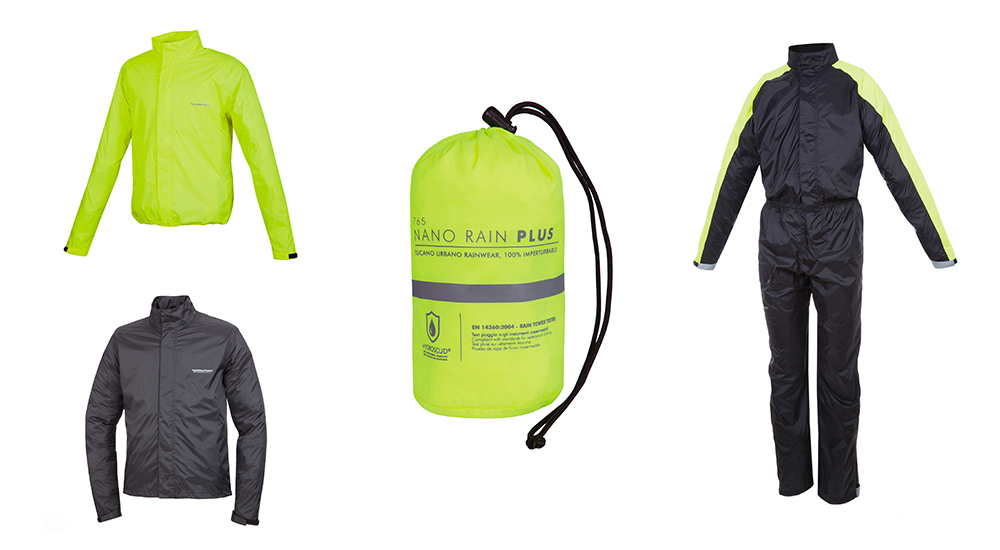 With April showers just around the corner, riders can protect themselves from the wet weather with the range of rainwear from Tucano Urbano.

Designed to be worn over the top of riding gear, Tucano Urbano's rain suits – available as one-piece or two-piece – offer quick and simple solutions so riders can keep dry while commuting to work, riding for pleasure or taking a trip.
There's a rain suit to match every riders needs – with highly compact options which can be packed away and kept in a backpack or under a seat when not in use.
As well as their extensive range of waterproof jackets and trousers, Tucano Urbano also offer the GORDON NANO waterproof over gloves and NANO SHOE COVER WITH ZIP to help riders stay protected against the worst of conditions.
SET DILUVIO REX
Designed for maximum protection for those riders taking longer rides in the rain, the SET DILUVIO REX suit – comprising of a jacket and trousers – is constructed with a HYDROSCUD® lightweight Polyester outer shell. The materials have been Rain Tower Tested to provide a high waterproofing rating. Taped seams, including on the collar, combined with a storm flap help to keep out the elements. Reflective inserts on the back, sleeves, sides of jacket and down the leg keep riders visible in low light. Both the trousers and jacket incorporate adjustable velcro straps to ensure a secure and comfortable fit. Reinforced seams help with durability and protection from the elements. Accordion openings at the ankles make getting the over trousers on and off quick and easy. The set features two external pockets – one of them waterproof – with one internal pocket.
Sizes: XXS-4XL
RRP: £114.99
More information: www.tucanourbano.co.uk
NANO RAIN JACKET PLUS
The NANO RAIN JACKET PLUS is a super-compact solution for wet weather conditions. The jacket is made from Tucano Urbano's trademarked HYDROSCUD® material – a breathable, windproof and waterproof material, constructed from Polyamide. Taped seams and a waterproof seal on the central zip help keep the rain out. Reflective inserts keep riders visible and safe in low light. An ergonomically designed hood – which folds away – provides further protection from the elements. There's an adjustable hem too for a secure fit. Available in Black and Fluorescent Yellow.
Sizes: XXS-5XL
RRP: £49.99
More information: www.tucanourbano.co.uk
NANO PLUS TROUSERS
Designed to compliment the NANO RAIN JACKET PLUS, the trousers are made from the same HYDROSCUD® Polyamide outer material to offer riders a breathable, windproof and waterproof outer layer. The material has been Rain Tower Tested for guaranteed weatherproofing. Reflective inserts help keep riders seen in low light conditions and bad weather. Adjustable ankle straps with lateral zip and side zips opening to the calf provide an easy and quick fit for riders caught short and needing to put it on at the side of the road. Folding up extremely small into a handy carry bag, makes storage and transport simple. Available in Black and Fluorescent Yellow.
Sizes: XXS-5XL
RRP: £39.99
More information: www.tucanourbano.co.uk
TUTA NANO PLUS
For those riders looking for an extremely compact one-piece suit to keep under their seat or in their backpack, the TUTA NANO PLUS rainsuit is perfect. It's made from Tucano Urbano's trademarked and Rain Tower Tested HYDROSCUD® material. The suit features taped seams and a storm flap on the central zip (including collar) to help protect riders from the elements. For increased rider visibility, there are reflective inserts and contrasting inserts on the arms in fluorescent yellow fabric – compliant with EN 20471:2013 standard. Adjustable Velcro straps on the ankles, side zip fasteners on the trousers which open up to the calf and accordion openings help with ease of getting the suit on and off.
Sizes: XXS-3XL
RRP: £79.99
More information: www.tucanourbano.co.uk
Notes to editors:
HYDROSCUD® – the registered system that guarantees waterproofing and breathability. 100% waterproofing against rain is guaranteed either by an inner membrane or the use of coated fabrics together with water run-off flap and taped seams.

Rain Tower Tested – to establish whether not only the fabric but also the garment is fully waterproof , the new rainwear line has undergone the Rain Tower Test according to EN 14360:2004 standard.
About Tucano Urbano
Established in the late 90's in Milan, Tucano Urbano produces urban-contemporary clothing and accessories traditionally linked to the world of two wheels. Tucano Urbano constantly enlarge the scope of the brand to reach a wider, international public of all ages and passions that appreciates a metropolitan, practicable style and, above all, the creativity of an original product.