New 2019 Spring / Summer Collection from Tucano Urbano
Published on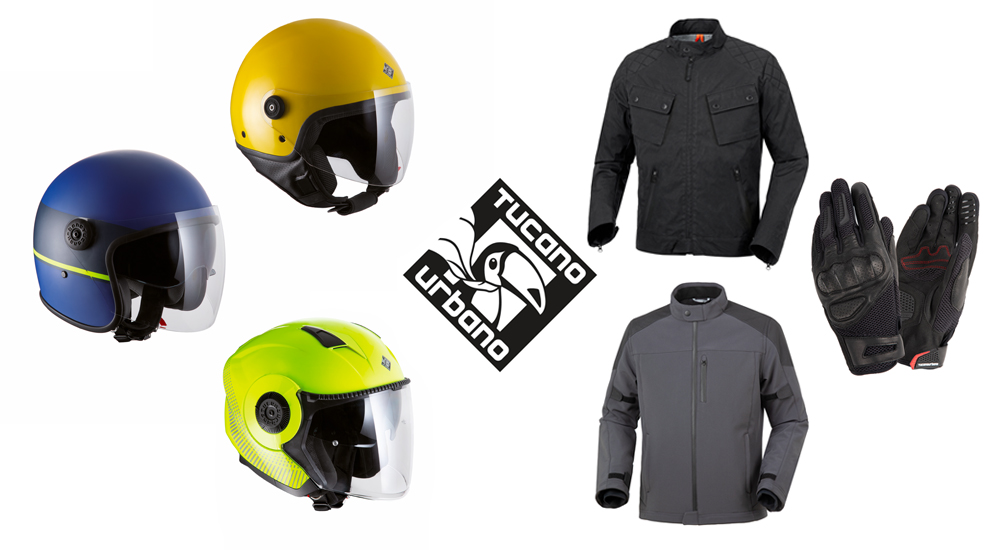 Tucano Urbano have launched the brand-new Spring/Summer collection for 2019, not only introducing a new headline collection of helmets alongside new clothing and accessories, but also bringing back new and improved customer favourites.
With a company ethos of constant development and refinement, Italian-based company Tucano Urbano have announced high safety standards, enhanced fit and updated looks to a number of jackets within the existing line-up. All jackets new for 2019, as well as a number of other jackets within the collection, are now fully CE – Class A approved in accordance with directive prEN17092. CE certification ensures that the motorcycle clothing and accessories have satisfied a set of stringent rules to offer suitable levels of abrasion and impact protection, without limiting movement.
Rachel Fuller, UK Country Manager, said: "Tucano Urbano understand exactly what the customer wants from their riding kit – and the new collection for 2019 reflects the core pillars of what every rider should expect; first-class safety, unrivalled comfort and effortless style. As a result of extensive refinement and tests, we've developed our line-up so all new products, as well as customer favourites, such as the TOM and MONSIEUR jackets, meet and exceed CE safety standards."
HELMETS
Brand new for 2019 is a headline range of striking helmets. With a round shape, clean lines and retro styling, the EL'JETTIN is a demi-jet helmet with both a detachable scratch-proof visor, and detachable ear profile for summer use. Coupled with a luxury Aero 3D inner, which is detachable and washable, and a host of eye-catching matte and glossy colours, the EL'JETTIN is the ultimate summer helmet.
A stylish, streamlined jet helmet designed for urban use, the EL'TANGE helmet has two scratch-proof visors; one long clear visor with Pinlock technology, plus an independent sun visor. On the outside, an aerodynamic, Polycarbonate outer shell available in monotone and fluorescent colours, and inside, there's a hypoallergenic, breathable microfibre inner.
A Tucano Urbano classic – the EL'JET helmet – is a jet helmet with an integrated sun visor and detachable long visor, providing complete versatility when riding. Now for 2019, the EL'JET comes in three new colours all featuring a fluorescent yellow strip, adding an eye-catching, simple detail to the retro-look helmet.
CLOTHING
The perfect summer riding jacket should feel lightweight and breathable, whilst maintaining high levels of protection. The new line-up of jackets from Tucano Urbano offer just that; all offering complete breathability alongside the Comfort Protection System (CPS) that ensures comfortable, ergonomic protection. The POL 2G – a waxed effect cotton jacket – offers versatility for wear both on and off the bike. With a ventilation system on the chest, watertight pockets and Tucano Urbano's REFLACTIVE system on the collar and cuffs, it has all the features of a modern motorcycle jackets yet remains relaxed and timeless in style.
For a casual look, the SHELLMAX is a three-layer softshell jacket; a comfortable fleece inner, a breathable mesh lining, plus a stretch Polyamide outer. With a 100% waterproof membrane, windproof closures and a foldable hood, it offers protection from the elements without the bulky feel of a winter jacket.
The NETWORK 2G for men and NETWORK LADY 2G for women – two mesh jackets – have been designed for simple elegance for the summer rider. Both are made with a light mesh lining and have high tenacity Polyester Oxford inserts. Pair with the ZIPSTER 2G, CE-approved trousers with mesh inserts, that can unzip to become Bermuda shorts when not riding.
GLOVES
Classic style gloves with intricate details throughout, the MARQUIS gloves are 100% real goat leather with openwork inserts for maximum ventilation, plus padding for maximum comfort. Offering CE-Approved protection with soft armour on the palms, the MARQUIS gloves provide both a luxurious look and feel.
Following the success of the PENNA glove from the 2018 summer collection, Tucano Urbano have introduced the glove in a new colour – reflex red – as well as the new LADY PENNA, with the same mesh inserts for optimal ventilation and stretch finger and back fabric for a comfortable fit. With soft abrasion inserts, synthetic suede palm and a neoprene cuff, the PENNA and LADY PENNA are perfect for the summer rider.
For modern gloves with high attention to detail, the MRK2 gloves are CE-approved with a host of features; on the palm, there's micro-injected anti-abrasion rubber plus Aero 3D mesh for ventilation, the fingers feature a silicone rubber print for added grip as well as touchscreen compatibility, and the back has soft armour across the knuckles with real goat leather inserts.
For more information or to see the full range, visit: www.tucanourbano.co.uk
Notes to editors:
• REFLACTIVE® SYSTEM – is the registered system for visibility on demand with retractable reflective inserts. During a journey the inserts can be kept in view to maximise safety and, on arrival, they can be hidden under the cuff, collar or hood for maximum style.
• CPS (Comfort Protection System) – ensures that features are constructed with the best materials compliant to the EN 1621-1:2012 regulations to guarantee safe, lightweight and ergonomic protection. Armours are positioned in a garment to offer unrivalled levels of protection, comfort and fit.
About Tucano Urbano
Established in the late 90's in Milan, Tucano Urbano produces urban-contemporary clothing and accessories traditionally linked to the world of two wheels. Tucano Urbano constantly enlarge the scope of the brand to reach a wider, international public of all ages and passions that appreciates a metropolitan, practicable style and, above all, the creativity of an original product.