Versatile three-layer system from T.ur
Published on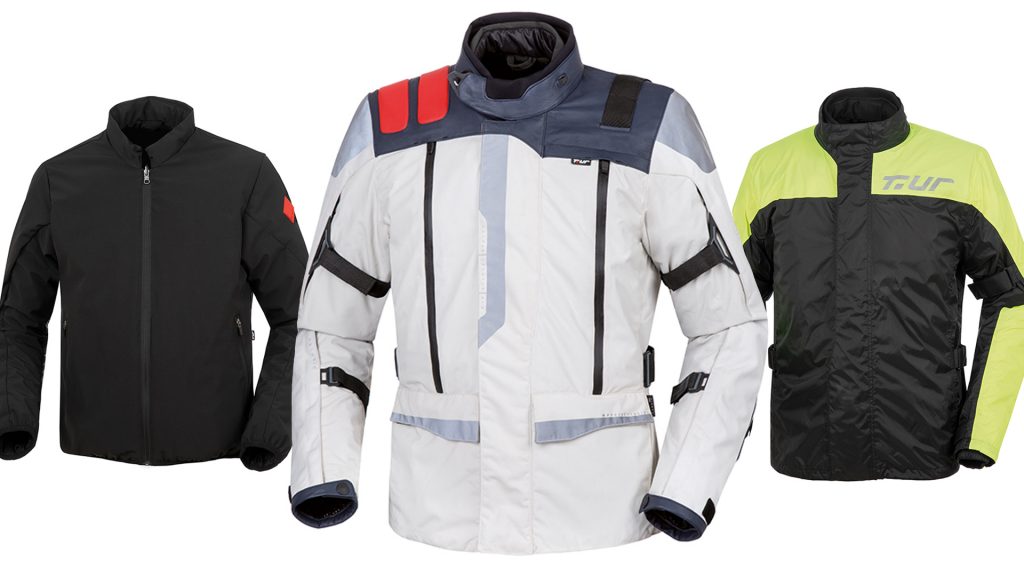 The new range of jackets and trousers from T.ur introduce three smart layers of innovative design, making it some of the most versatile touring apparel on the market today. No matter the climate, weather or distance, T.ur ensures every rider is prepared for any adventure.
Introducing the J-ONE jacket – the flagship product of the T.ur line-up – that is made up of a detachable, thermal inner jacket, the main outer jacket, plus a 100% waterproof layer. The three-layer modular system creates the perfect blend of practicality, incredible ventilation and first-class protection, resulting in a jacket that is capable of performing in any riding situation.
Thermal Inner Jacket – protection from the cold
The detachable, thermal inner jacket is made with Thermore® classic padding, providing exceptional warmth thanks to a fine fibre structure that captures air. Made with recycled fibres from PET bottles, the inner thermal padding is non-allergic, non-toxic, and stays compact. The outer shell is a breathable windbreaker in four-way stretch fabric in black, which doubles as a standalone casual jacket with a padded Polyamide back panel and inner sleeve, plus T.ur branding. The jacket has different sized internal and external pockets.
Main Jacket – protection from abrasion, impact and heat
Vintage inspired but with modern materials and technology, the J-ONE jacket is one of the very first motorcycle jackets to feature the new D30® LP2 PRO armour – the award-winning armour with advanced breathability, flexibility and protection in all riding conditions. Certified to the highest level of impact protection, the D30® armour has 40% more protection that the CE Level 2 standard requires, whilst the tri-ventilation technology maintains a high level of breathability. D30® shoulder and elbow armour comes as standard with the jacket, whilst there is an Aero 3D mesh pocket to add back protection, and pockets for chest protection.
The J-ONE jacket is made from two highly resistant CORDURA® fabrics; the body and inner sleeve is in a micro weave CORDURA® for lightness and fit, whilst the sleeve outer is in CORDURA® Oxford 600, guaranteeing resistance at the points with greatest risk of impact. The outer fabric is shower-proof thanks to a deep, water-repellent treatment with an inner membrane, meaning riders only have to rely on the outer waterproof layer in extreme weather conditions, so day-to-day riding is more convenient. For comfort, there's a Polyester mesh lining and a soft neoprene edge on the collar, as well as adjustors on the biceps, forearm, cuff and waist for optimal fit.
When riding in hot climates, ventilation is essential. The J-ONE jacket not only offers an abundance of ventilation zip openings on the front, sleeves and hem for direct, controllable air circulation; but the back can also be unzipped and folded down to reveal a large ventilation panel so hot air can escape quickly and easily.
Highly technical with attention to even the smallest of details, the J-ONE jacket has reliable and sturdy YKK zips, fine adjustment on the collar with an anti-flap hook, tape across the shoulders with loops to securely fix an action camera, plus built-in pockets for a hydration pack, with a value discharge system. There's a number of internal and external pockets, including a low, watertight front pocket, an easy-access cargo pocket with a magnet and Velcro, plus a large, anti-condensation and waterproof pocket on the back where the rainproof layer can be stored.
The well-thought-out colour palette complements a number of the leading Enduro motorcycles on the market today, available in light grey, dark blue and black, with contrasting leather inserts on the right shoulder. Light-reflecting panels are incorporated into the jacket design for high visibility from any angle.
Rainproof Outer Jacket – protection from the elements
Stored in the main jacket's back pocket is an ultra-compact rainproof outer jacket. Developed to withstand even the most torrential downpour, the rainproof jacket is made with Tucano Urbano's patented Hydroscud® system, a breathable, waterproof and windproof Polyamide fabric with taped seams and a high-water column. The jacket is rain tower tested with a storm trip on central zip and collar to ensure 100% waterproofness. Designed to fit comfortably over the main jacket, there's also a watertight pocket and anti-flap system on the biceps, cuff and hem. Whilst being worn, the jacket has a highly-visible design thanks to florescent yellow inserts and reflective logos, and when it's not being worn, the ultra-compact jacket can be easily folded down and stored in the back pocket of the jacket, ready for the next unpredictable downpour.
Additional items in the T.ur line-up that feature the three-layer modular system is the matching, connectable P-ONE trousers, and the J-TWO jacket.
For more information, please visit the new website at www.t-ur.com, or contact info@t-ur.com.
#TURiders
#SpiritOfAdventouring
T.ur is a new apparel and accessories brand designed for the most demanding adventouring riders. Born form the Tucano Urbano experience built up over twenty years, T.ur offers a complete range of highly specific products for touring, characterised by high-quality materials, thermal comfort, ergonomics, and the CE certification. T.ur introduces a distinctive and sophisticated style, offering a unique design in the motorcycle landscape.